I can still remember when I parked my new bike on a busy street. Someone carelessly scratched through my side panel while taking out their ride. I was so furious that I kept on looking for days on ways to remove scratches from bike.
No matter how careful you are you cannot avoid that one scratch on your ride which just ruins your day. Dealing with scratches has been one of the worst nightmares among vehicle owners.
Though it is not always possible to spend hefty amounts to remove scratches or to repaint the motorcycle. We have covered a list of 4 simple hacks on how to remove scratches from a motorcycle.
Understanding Different Types of Scratches
#1. Clear Coat Scratches – are the most common type of superficial scratches. The layer that lies on top is affected. These types of scratches are the easiest to remove.
#2. Primer Coat Scratches – are those which go deeper than the clear coat and the paint itself.
Since the scratch has affected the paint layer, it cannot be completely removed unless you repaint it. The most you can do is polish it to an unnoticeable level.
#3. Paint Scratches – are when you see a silver color which means that the scratch has hit the metal removing the clear coat and the primer.
These are the worst type of scratches which if not fixed shortly, the surface will slowly begin to form rust.
How to Remove Scratches from Bike

Candle Wax
For scratches on your bike paint, using candle wax is a terrific way to make the scratches undetectable. Start by cleaning the scuffed area and allowing it to dry, then, rub a light coat of the candle wax onto the damaged region.
The wax coat will cover and seal the undesirable mark. This method is a short-term solution to the problem.
Nail Polish
If you want an instant solution. Then using nail polish is the cheapest way ever. As soon as you've recognized the color closest to that in your bike, wash out the place and let it dry.
Then use the polish to the scuffed place evenly. You can apply several coats to be certain that the scratch is not observable.
Super Glue
Super Glue is used to simply level the scraped area together with all the untouched regions since it's translucent and blends evenly with the surrounding surfaces.
Apply a thin coating of super glue on the affected area and give some time to dry. Once it is set you can touch it up with nail polish to cover the scratch.
Toothpaste
Most formulations used in toothpaste contain abrasive components that could be implemented to wash minor scratches on painted surfaces, basically functioning like a sanding tool.
That is the reason you can always use it if your bike has undesirable marks you need to erase.
Thoroughly wash and dry the scuffed area.
Put some toothpaste to a dampened microfiber towel.
Using circular motion rub the toothpaste into the scratched area.
Rinse off any excess toothpaste.
Repeat the process two to three times.
Layers of Paint Coating on Motorcycles
# E-Coating – This is the first layer of primer coating which prevents the painted body from corrosion and rust.
# Primer – The second layer of coating which levels out any unevenness of the underlying layer. Also protecting E-Coating from UV radiation.
# Clear Coating – It is the last layer that is applied to increase paint's durability, keeping its gloss and shine. Clear Coating protects the body from UV radiation and minor scratches mainly caused by pebbles or dust.
For best results, use a good polishing agent after removing the scratch. Also, check these two popular Automobile polish which makes deep scratches go less noticeable.
Sheeba Scratch Remover
Sheeba Polish leaves a long-lasting protective film that protects and glows for an extended time. It can also be implemented to helmets, powder-coated accessories, head, and tail-lights.
Sheeba High gloss includes a unique mix of ingredients that provide extra bright glow and pay for protection. It is actively formulated to provide extra bright glow & fresh appearance to scratched surfaces.

Formula 1 Scratch Out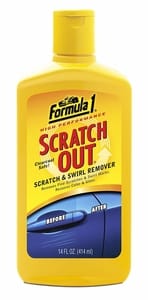 Formula 1 Scratch Out eliminates minor to medium scratches, swirl marks, bird droppings, and tree sap out of your vehicle.
Simply apply some amount into the scrape and rub vigorously with a sterile cloth. Keep rubbing until you find the scratch evaporating.