You already know that chain locks provide the most protection when it comes to securing your ride. More than 50% of motorcycle thefts are from home and garages. The best motorcycle chain locks are resistant to cutters, metal saws, and leverage attacks.
Although there's no such motorcycle lock that is unbreakable, a chain lock takes a lot of time and effort to break-in. Also, it is not possible to break with small portable tools that are used to attack U locks.
Motorcycle chain locks are protective due to their build quality and size; It is mainly designed to secure the motorcycle at home with a ground anchor or a post. Thus, moving around with them can be difficult due to their heavy weight. Their length size also gives us the option to secure more than one bike at a time.
The resistance of a motorcycle chain lock depends on the size of its link. Always remember thicker the link, the stronger the chain. Though chain locks come in different sizes, I have segregated them into three categories according to the size of the links. Remember, a small pair of bolt cutters can easily crop any links smaller than 9mm.
Between 9mm to 12mm:

 Chain links of this size can be cropped with a medium bolt cutter depending on the quality of metal used in the chain.

Between 13mm to 15mm:

Links of this size are difficult to break even with the largest bolt cutters. They serve impressive resistance considering the build quality is top-notch.

16mm or above:

 Links of this size cannot be cropped with a bolt cutter and can only be broken with an angle grinder which creates a lot of noise.
Best Motorcycle Chain Lock Reviewed
1. Oxford Monster Chain and Padlock -10mm
Oxford chain lock is designed to serve an extreme amount of strength and convenient enough to be taken along on your journey. The 10mm chain link comprises CRO-MO grade steel that is strong enough to reassure your motorcycle.
The padlock with a double locking mechanism is combined with a hardened steel shackle that can also be doubled as a disc lock. A leading security test company, Sold Secure, has rated the Oxford HD chain as a Silver level lock.
The chain is coated with zinc to protect it from corrosion. Also, to protect the paintworks of the motorcycle, the chain has a cloth sleeve covered on it. The Oxford chain and padlock are available in three length sizes: 1m, 1.5m, and 2meters.
2. Kryptonite New York Fahgettaboudit -14mm
Kryptonite is one of the leading manufacturers of security locks for bikes. The New York Fahgettaboudit chain lock is built with 3T manganese steel with 14mm six-sided chain links. For max performance, the shackle is armed with 15mm hardened steel.
The disc-style cylinder is resistant to pick and drill. At the same time, the double deadbolt design contributes additional protection against twist attacks. In addition, the chain lock has been rated 10/10 on Kryptonite's security scale.
It comes with three stainless steel keys with one LED replaceable key fob. In contrast, the sliding dust cover protects the motorcycle from scratches. Kryptonite also offers an optional Anti Theft Program where the company covers a percentage of the loss if your vehicle has been stolen.
The chain lock comes in two different sizes: 100cm, weighing 6.92kg, and 150cm, with a weight of 4.91kg.
3. Abus Granit Extreme Plus 59 -12mm
This security chain from ABUS will exceed your expectations regarding fit and finish. What makes the Granit Extreme Plus unique is the patented ABUS power link technology that connects the chain directly to the locking mechanism.
The 12mm hexagonal chain, along with the housing and locking mechanism, is made of special hardened steel. Therefore, the ABUS security lock chain combination cannot be picked or cut with standard bolt cutters.
The keyhole is designed to be manually operated to protect it from dust and corrosion. Also, you get two keys, one of which features a LED light.
4. Kryptonite Messenger Chain and Moly Lock -9.5mm
This chain lock from Kryptonite is designed to be used on smaller motorcycles such as dirt bikes or e-bikes. The 9.5mm four-sided chain links are built from 3T manganese steel.
The strong padlock includes a hardened double deadbolt design which provides an extra layer of security to resist twist attacks. A weather-resistant nylon sleeve prevents scratches to painted surfaces on the motorcycle.
A set of two ergonomics keys is included with a coiled wrist keychain. In addition, Kryptonite offers a Keysafe program where you register your keys online, and in case you lose the original keys, the company will ship you a pair globally. 
5. Oxford Monster XL Chain lock -14mm
This motorcycle chain lock is going to take some serious gear to crack it. The monster 14mm hexagonal chain links are made from Ni-Cro-Mo alloy steel which is covered in a protective sleeve to protect from unwanted paint scratches.
Merged by an ultra-strong padlock that is constructed with a hardened boron steel armor casing and an 11mm steel shackle. Both the chain and the padlock have been rigorously tested and approved by Sold Secure and Thatcham.
The chain lock is 1.5 meters long and weighs around 9 lbs. A set of 3 keys is included along with the Oxford key replacement service.
6. Kryptonite Evolution Series 4 -10mm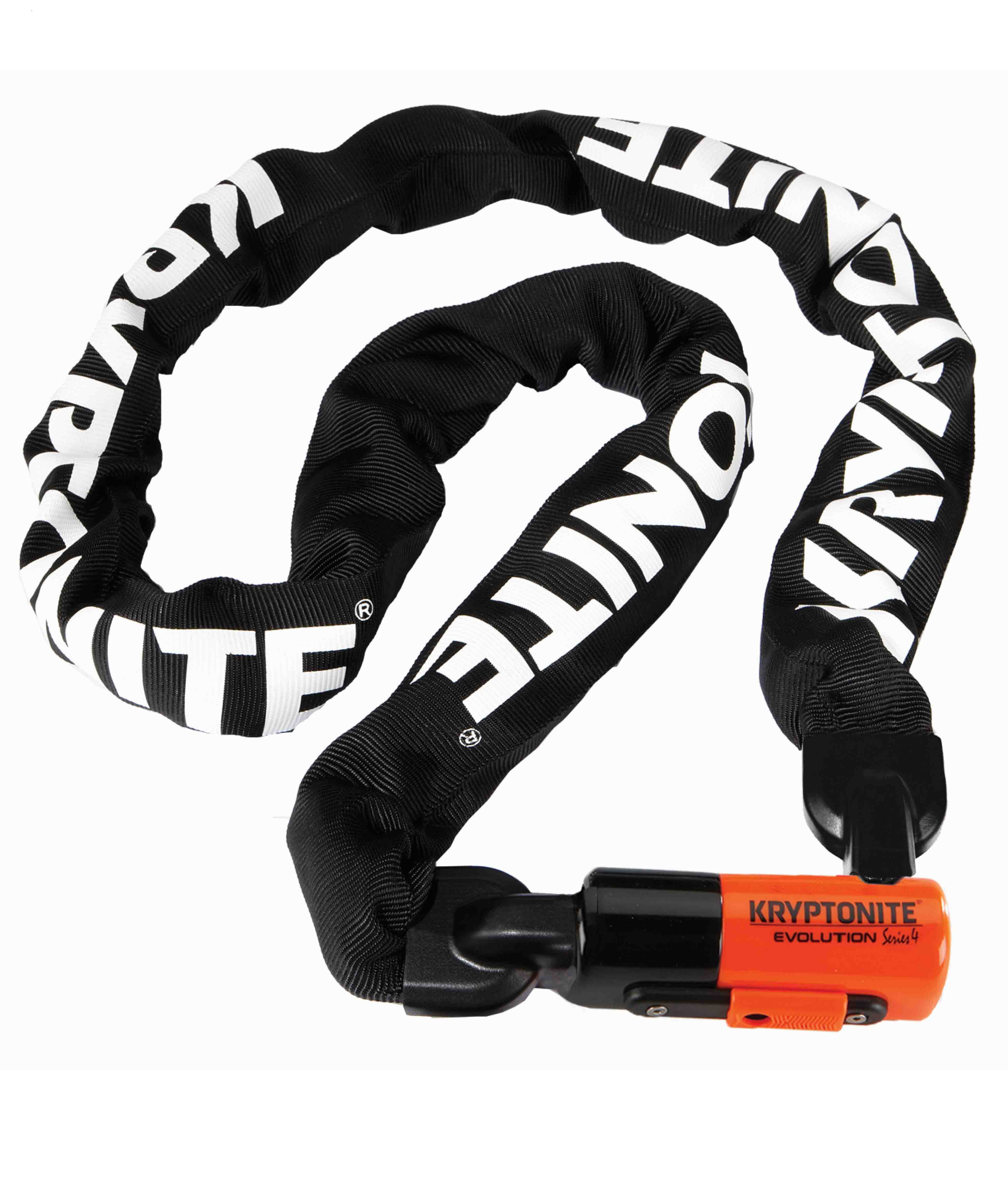 The Kryptonite Evolution Series 4 would be the best motorcycle chain lock to secure more than one bike at a time. It measures up to 160cm and weighs 9.7 lbs.
The 10mm six-sided chain links are made of 3T manganese steel while the chain secures directly to the hardened deadbolt. Rated 8 out of 10 on Kryptonite's security scale, the disc-style cylinder is resistant to drill attacks and picking.
A weather-resistant nylon sleeve is covering the chain to protect the motorcycle from scratches. It also includes a set of 3 keys with one replaceable key fob. The chain lock is eligible for an optional anti-theft program and a key safe program.
7. Kryptonite New York Chain -12mm
The Kryptonite New York chain is a heavy and impressive-looking deterrent that will require time and noisy tools to defeat. For maximum strength, the six-sided 12mm chain links are made of 3T manganese steel. Additionally, an Evolution series 4 lock padded with a 14mm max performance steel shackle is used to secure the chain. 
Kryptonite has a patented oval steel crossbar design along with a double deadbolt lock for extensive holding power for extra security.
With its disc-style cylinder design, the chain lock features an anti-pull protection system and is resistant to drill attacks. As a result, Kryptonite has rated New York Chain 9 out of 10 on its security scale.
The chain is covered with a sliding dust cover to protect itself from corrosion, the chain is 100cm in length and weighs around 13 lbs. Also, it is eligible for the anti-theft program and KeySafe program.
8. Kryptonite New York Legend 1590 -15mm
Nobody is taking anything if you have locked up with the Kryptonite New York Legend. This massive chain lock is built with 3T hardened steel with 15mm chain links resistant to bolt cutters.
For ultimate protection, a hardened padlock shell with 16mm max performance steel shackle is used to secure the chain. A high-security disc-style cylinder and a double deadbolt design give additional protection against drill and twist attacks.
Kryptonite has rated the New York Legend a 10 out of 10 on its security scale. The chain is covered with a sliding dust cover to protect it from dust and debris and comes with a set of 3 ergonomics stainless steel keys.
The New York legend weighs around 9 lbs and has a length of 90cm. However, many people have complained that the chain is very short. The product falls into the Anti-theft protection and KeySafe program.
Conclusion
Although all chain locks are different from one another in terms of weight, length, and link size, go for the one according to the place of use. Your purpose will define the best motorcycle chain lock for you.
Secure the bike with a fixed object and use an alarm disc lock for additional security. As we never know when things would go south, it's always a good idea to use a motorcycle GPS tracker on your ride.