Most guys prefer bikes to go on long road trips and feel the breeze of air passing through their hair. But at these times the major missing is the music. Let us find out the best Bluetooth helmet speakers for you to solve this issue.
You may have thought this while riding your back that let's just turn on the jazz. Let's just heat it up a bit, right? But then your dream shatters the minute you realize that you're riding a bike instead of a car.
Well, you don't have to reminisce over your car for having a stereo and blame your motorcycle for not having one. Because for your convenience we introduce you to the best motorcycle Bluetooth helmet speakers.
In this article, we are going to cover all about the best Bluetooth helmet speakers and why should you be choosing that particular one. Without further ado, let's jump straight into the content.
Best Bluetooth Helmet Speakers
Now, let us unravel the top 5 best Bluetooth motorcycle helmet speakers and you can choose any one of them according to your needs.
1. Sena 20S-01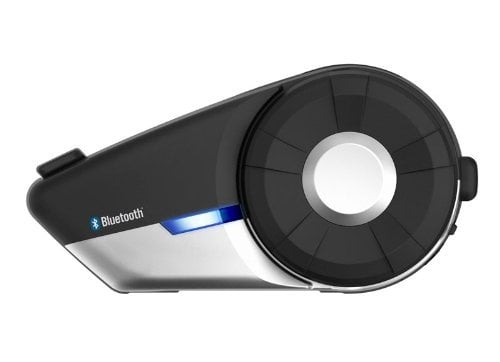 This Bluetooth helmet speaker can be connected to at least 2 phones and this ranges up to 2km. Moreover, it uses a voice command for receiving a call.
It can be connected to 8 different people and simultaneously, you get access to FM radio, music, or acoustic commands from GPS navigation.
The only disadvantage of these Bluetooth helmet speakers is that their receiver is attached to the outside of the helmet. Thus, heavy rain can damage it.
2. Cardo PackTalk Duo
Cardo company has been renowned for making acoustic systems for bikers. They have been in this industry since 2004. They are professionalized to make a number of Bluetooth helmet speakers that can be connected to at least 15 people with about 40mmHD speakers for speech acknowledgment.
The biggest disadvantage of this PackTalk Duo is that it has a very long training guide. It can be a problem for certain people as it consumes much time.
3. UCLEAR Digital HBC200
The most beneficial feature of this that you can communicate with the fellow bike rider. Because the Bluetooth system inserted in this these speakers enable you to have bike-to-bike communication within a 700m range.
Moreover, these Bluetooth helmet speakers eradicate all the environmental noises that can distract you.
These speakers can function continuously for up to 10 straight hours and you can even have group chats with your friends. The only led back of this accessory is that they are extremely expensive.
4. Sena SM5D-02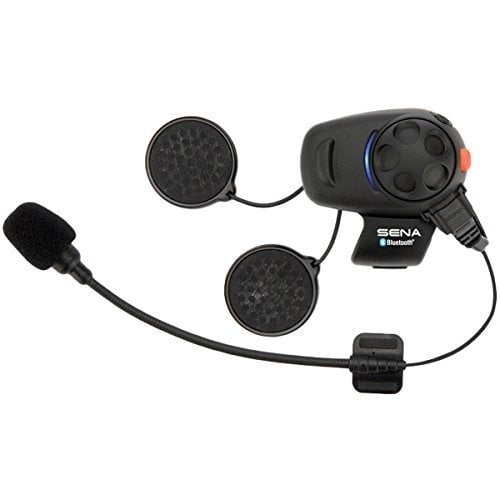 These Bluetooth helmet speakers are the easiest ones to set-up as compared to other Bluetooth helmet speakers mentioned in this article.
These speakers come with a lot of volume settings and you can adjust the frequency according to your likes and needs. Furthermore, these helmet speakers occupy much less space as compared to other speakers. This model consists of a dual-set.
Thus, if you're traveling with some, you both can enjoy music. However, this Sena model is quite older as compared to the already mentioned one.
5. BE Headwear
These helmet speakers are the best to choose for all those off-riders because of its extremely loudspeakers for motorcycling. The battery life of these speakers is 9 straight hours.
These Bluetooth helmet speakers come with a charger. In addition, these Bluetooth helmet speakers have a lifetime warranty. Moreover, these speakers can opt-in voice recognition once they are connected to your smartphones.
Thus, enabling you to keep in touch with someone. However, these Bluetooth helmet speakers must be connected to SIRI for voice instructions.
How do Bluetooth Helmet Speakers work?

Before talking about some best motorcycle helmet speakers, let us first give you a head start on how do these motorcycle helmet speakers operate.
These motorcycle helmet speakers operate with the help of Bluetooth. These helmet speakers are also referred to as the 'Bluetooth helmet speaker'.
The Bluetooth operation is known by nearly everybody nowadays. It is termed as the most convenient technology.
These Bluetooth helmet speakers are devoid of any wires or connecting cables. Thus, you don't have to worry about the messy tangled cables or wires dangling from your helmet.
This will not be a good sight, as well. Then how do these operate? Ever heard about chips? These chips help to transmit signals, thereby, connecting the two devices together.
However, some people may have privacy issues. But there's no need to worry because these Bluetooth helmet speakers are short-ranged.
The person who's wearing the helmet will be the only one who can listen to the person talking to another end of the speaker. Therefore, these Bluetooth helmet speakers are designed in such a way to make sure that the privacy of the people remains intact.
---
---
Advantages of Bluetooth Helmet Speakers
Bluetooth helmet speakers provide a number of facilities. That is why they are in such high demand. This is the most convenient creation of the human race so far. These Bluetooth helmet speakers have a number of worth-mentioning attributes.


Hands-Free Characteristic
The wireless functionality of these Bluetooth helmet speakers has already been mentioned earlier. But due to its highest convenience, it deserved to be mentioned again and separately.
We see a lot of crash incidents that happen due to using a phone while riding a motorcycle. These Bluetooth helmet speakers eradicate the fear of an accident as it can be easily connected to your phones.
Moreover, these Bluetooth helmet devices need your voice to receive a call or disconnect it. Therefore, removing the need for manual disconnecting.
This is the most intriguing and invigorating benefit of these Bluetooth helmet devices. Whenever you are riding alone, you want to listen to some music for a smooth and enjoyable journey.
Moreover, the volume of the music set in these devices can, nevertheless, enables you to listen to the horns honking at the back of you. Therefore, it can be the biggest advantage of these Bluetooth helmet speakers as you won't be side-tracked.
Connect with your smart devices
The Bluetooth technology has enabled people to keep in touch with loved ones even while riding their motorcycles. The Bluetooth helmet speakers can be connected to your phones and you can receive calls. You don't have to receive the call by hand but all it needs is a voice command.
You can receive a call from an incorporated microphone and you can disconnect a call as well. Besides, in some Bluetooth helmet speakers, there's also a feature of sending a text message. You can just voice out your message and it will be sent to the respected person.
Forget the Fear of Being Lost
If you love to ride a motorcycle, you love voyaging around too. But this cruising can make you end in places where you will dread to end up. In short, you may get lost.
For this specific purpose, GPS navigation can be connected to these Bluetooth helmet speakers which can guide you to reach your respected destination. Thus, eliminating the fear of getting lost. Therefore, you must have this motorcycle helmet if you get lost quite easily.