Are you looking for buying the best wireless helmet speakers but unsure about which one to buy? Have you already wasted a lot of money on helmet speakers but none of them met your expectations?
Or you are worried because you are going to buy them for the first time but have no information in this regard? Stop worrying!
This article will tell you everything from A-to-Z about buying the best wireless helmet speakers.
If you are going to choose and buy the best wireless helmet speakers for you, make sure to go through the following details first.
Few things to Consider to buy the Best Wireless Helmet Speakers
Must be Multi-Functional and Multi-Device
Make sure that your wireless helmet speakers must be multi-functional. It means that they must be able to support the connection with multiple devices.
Not only making the connection, but they also support multi-tasking. For example, they must be able to allow you to listen to music as well as making calls to someone else.
A number of wireless helmet speakers are currently available in the market but not all of them meet these features. There are many of them which only support connection with one or two mobile phones at a time.
On the other hand, there are many others that support more than 5 devices to be connected at a single time.
Similarly, there are some others that allow as many devices to be connected as you want.
Therefore, make sure you go for buying those wireless helmet speakers which would be multi-functional as well as supporting multi-devices.
As there would be no wire with these helmet speakers, make sure that would be easier to use and handle while riding a motorcycle. They may not be unfit in your ears or may not fall down again and again.
Furthermore, they must be fitted inside your helmet and may not cause any sort of irritation to you while wearing the helmet.
There are some wireless helmet speakers that are more-handy or easier to use while riding a motorcycle.
On the contrary, there are some cheaper brands which offer wireless helmet speakers that don't fit well and are a waste of money.
Must have Volume Controls
In order to choose the best wireless helmet speakers for you, it is very important that you must choose those which comes with more controls for volume.
It is the most beneficial feature for you if you pay a special focus on it. Always look for those wireless helmet speakers that have more volume controls due to the following reasons.
The first is that they would allow you to keep up the volume as higher as you want if there is already another noise.
Secondly, they would allow you to make the volume lower or adjustable according to any situation.
The more volume controls a wireless helmet speaker has, the more absolute performance it shows. There are some helmet speakers that come with only limited volume controls.
If you are riding a motorcycle on a busy road, the traffic noise may become louder than your speaker's volume.
In those conditions, you must have those wireless helmet speakers which can give you the maximum quality sound at a higher intensity. This is because, in this way, you would be able to listen to your calls without any interruptions.
Must be Able to Cancel Out Noise
Another important feature of a wireless helmet speaker is its tendency to cancel out the traffic noise.
When you are riding on a motorcycle at a busy road for longer, you may end up having headache due to constant noise.
There are also chances that you could hardly hear the music or calls through your wireless helmet speakers due to outside noise.
In order to deal with such situations, it is recommended to buy those speakers that have noise cancellation in-built features.
There are many good brands that make wireless helmet speakers in a way that they completely cancel out outside noise.
Therefore, must go for choosing those one's for you that have this feature in-built with maximum performance.
Now-a-days, there is a great variety of wireless helmet speakers that come in different aesthetics and style. They are available in beautiful colors and textures.
They are also available with little variations in sizes. Different brands of wireless helmet speakers are making their speakers in a different look.
They try to make their wireless helmet speakers look classier, appealing, eye-catching, and more trendy. You can select any one of these based on which color you like, which size you like and so on.  
It is also important to consider the cost of buying these wireless helmet speakers for you. They are available in the market at different prices and with different features.
In most cases, those with the most amazing features are usually costly. Those wireless helmet speakers which are cheaper or more affordable may lack any of the required features.
However, this is not a hard and fast rule for them. You may find the best wireless helmet speakers at affordable prices with all the demanded features.
Before you plan to buy them, make sure to make a budget about how much you can spend on them.
Once you make a maximum limit of your money for buying these speakers, you can go for looking at them in this range.
You would find a lot of options in any range and then pick up the one that would be the best among all.
This is also a very important thing to consider while buying wireless helmet speakers. Always prefer to buy those which are rechargeable and doesn't require to replace batteries.
In this way, they would help you in saving cost that you might have to spend on purchasing non-rechargeable batteries.
As compared to it, when you go for buying a rechargeable battery, you would only need to recharge your speakers.
The good quality wireless helmet speakers usually need to be charged once in a day. After that, they keep on working for hours and have longer stand-by times.  
Must have at least One Year Warranty
Always check if the company is giving you a warranty on buying the wireless helmet speakers. It is recommended to buy from that seller who is offering at least a one-year warranty over these speakers.
It is because if you face any issue such as any functional issue, you ask them for help. When you find any defect or functional disability in your wireless helmet speakers, you are required to contact the company.
Contact them and ask them to either replace it with a new set or make them again functional by resolving the issue.
On the other hand, if you buy less than one-year warranty speakers, you may end up regretting if they go out of order.
Therefore, it is always better to look for future aspects before buying these wireless helmet speakers.
---

Now that you know about the most important features of a wireless helmet speaker, make sure to look for these while buying one for you. A purchase with proper insights would always make you feel proud and happier at the end and make you safe from any regret.

Top Two Best Selling Wireless Helmet Speakers
Although you will find a great variety of the best wireless helmet speakers in the market, the top two of them are discussed below in this article.
Leaning Tech Wireless Motorcycle Helmet Speakers
These are the top selling wireless helmet speakers which come with many amazing features. They can be easily installed within less than five minutes and every one of you can install it without any issue.
As they are wireless, they are the most convenient to use under the helmet lining while offering no irritation. They are priced at $21.99 which is very economical for everyone.
Another great advantage of these headphones is that they come with a warranty so that you can replace if found any error in them.
LEXIN 2x LX-B2 Universal Wireless Helmet Speakers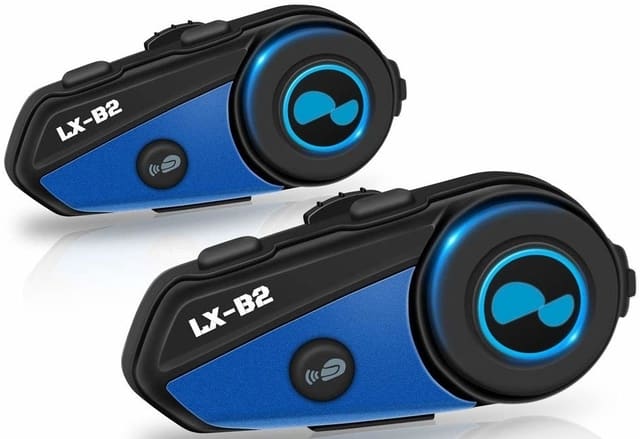 These are also the top recommended and best-selling wireless helmet speakers that can be found at a price of $139. Although they are somewhat expensive but its features and quality worth this price.
Their sound quality is great and they can be used for the very long distances or range. They are also rechargeable and are best among all in canceling out the road noise.